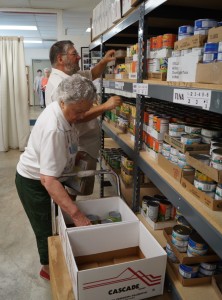 Newberg FISH is a member of the Oregon Food Network, a cooperative network of agencies focused on providing emergency food.
FISH is an acronym, which stands for Friends In Service to Humanity.
Newberg FISH focuses its efforts on providing emergency food services, as well as cooperating with other local agencies to help people meet other critical needs such as housing, medical and dental care, and job placement.
Newberg FISH staff members are 100% volunteer, as they have been since our founding in 1970.
Last year, Newberg FISH assisted 16,388 people (average 1,366 each month) and 4,648 households (average 387 each month).
2015 marks our 45th anniversary. Forty-five years after our founding, our focus is still neighbors lending a hand to local neighbors and families in need.
"Feed the Need" 2015 Love In the Name of Christ of the Newberg Area (Love INC.), along with local churches throughout the greater Newberg area are organizing this year's "Feed the Need" to benefit Newberg FISH. This is one of two annual food drives that are critical in keeping FISH shelves adequately stocked. The organizers are taking a new approach from years past: to get FISH the food it needs while encouraging the people of God throughout the Newberg area to interact with their neighbors and family around a service project. Love INC. and the Newberg Ministerial Association will promote the food drive to the churches in our area. The goal is for churches to promote the food drive to their members. Members are encouraged to promote the food drive to their friends, neighbors and family. Food is being collected now and during the weeks before the delivery day of Sunday, October 18th. Individuals may want to collect food and then drop it off at FISH themselves on Sunday October 18th between 11:00 and 4:00. Or come by during the week (Monday/Tuesday/Thursday from 9 to 2), and indicate this is for "Feed the Need" food drive. Churches may take this opportunity to make the food drive a church-wide event. Cash donations are also welcome.