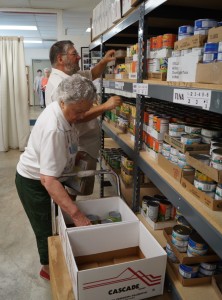 Newberg FISH is a member of the Oregon Food Network, a cooperative network of agencies focused on providing emergency food.
FISH is an acronym, which stands for Friends In Service to Humanity.
Newberg FISH focuses its efforts on providing emergency food services, as well as cooperating with other local agencies to help people meet other critical needs such as housing, medical and dental care, and job placement.
Newberg FISH staff members are 100% volunteer, as they have been since our founding in 1970.
Last year, Newberg FISH assisted 16,388 people (average 1,366 each month) and 4,648 households (average 387 each month).
2015 marks our 45th anniversary. Forty-five years after our founding, our focus is still neighbors lending a hand to local neighbors and families in need.
Finding it difficult to make ends meet? To those in the community who have recently been affected by the Climax and Mill layoffs, or are just going through some difficult financial times, please remember us as "Your Neighborhood Community Friends." Times are tough not easy for many of us. You are always welcome to come on into FISH for an emergency food box to help stretch your monthly budget for other items such as heat and water. You only need to bring a piece of mail showing you live in Newberg or Dundee, fill out a simple form and we will see that you are taken care of with a box of healthy food. We are now open every Tuesday evening 5 to 7. We promise to treat everyone with confidentiality, respect and dignity.
Special shout out to the many schools in the area that continue to support FISH through food drives and fund raisers. This month we want to especially thank Newberg High Activity Club, CS Lewis, and St. Paul Elementary. Keep checking in on our page. Lots of stuff going on.